The Sawtooth National Recreation Area has many areas that are accessible during the winter season, but some are definitely far more accessible or far more appealing than others. We wanted to take a few minutes to share some of our favorite Sawtooth areas to access during Winter.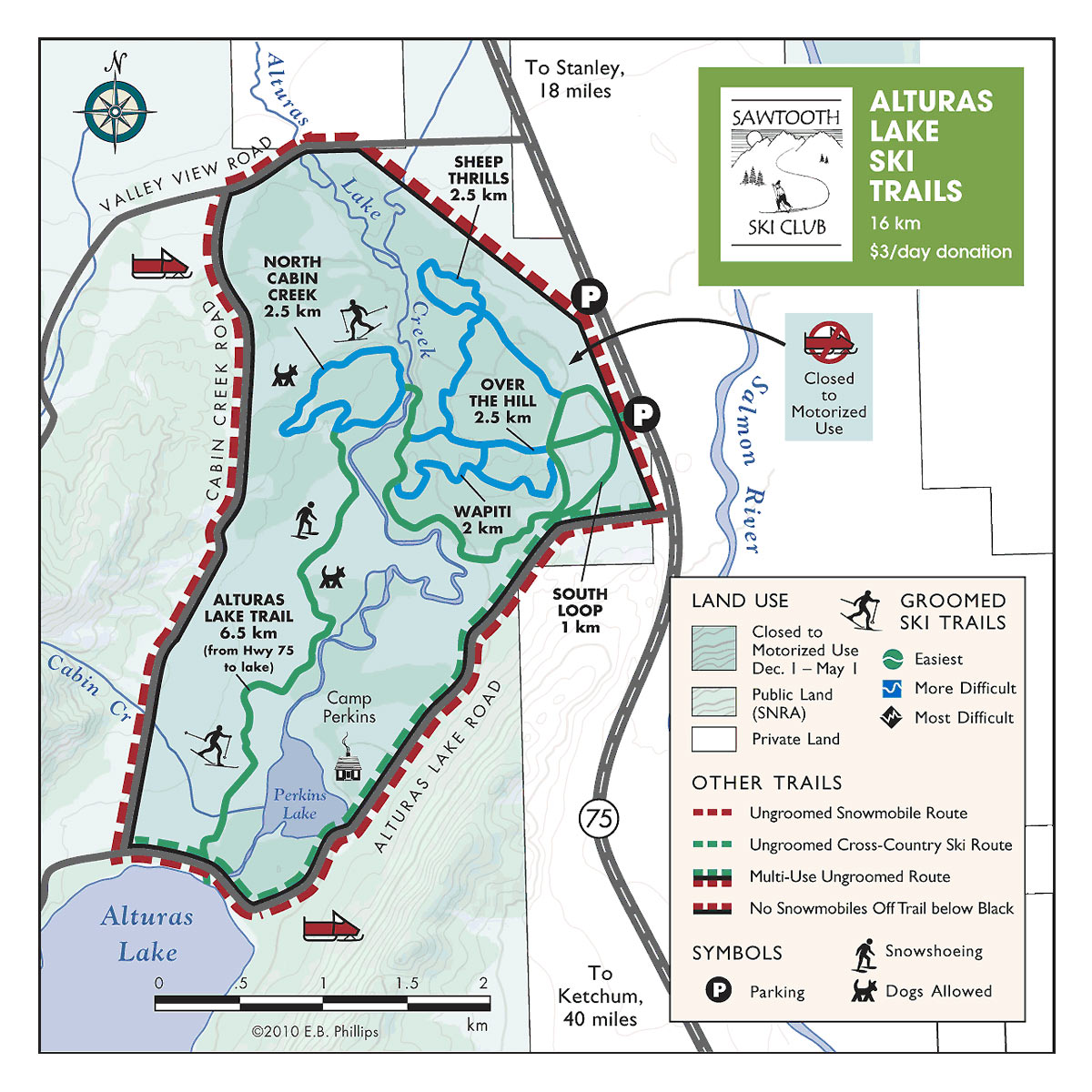 Alturas Lake
Alturas Lake is an amazing Sawtooth Mountain winter destination. The area has several groomed Nordic ski trails and offers extraordinary scenery against the majestic, snow-covered mountains. Adventurers can even find access to small, but beautiful Perkins Lake through a significant effort of 6.5km each way. This area is very well cared for and even has a detailed map outlining available trails.
Park Creek
Similar to Alturas Lake, but slightly less extensive and a bit further drive from Ketchum, Park Creek offers a fun network of fairly simple trails and hilly scenery. Visitors here are afforded an entirely different view from the trail near Alturas Lake, catching the northern edge of the Sawtooth Range and some of its most iconic peaks. This area is also very well cared for, so check out the detailed map of available trails.
Redfish Lake
Redfish Lake is a regular stop for snowmobilers and Nordic skiers alike, which leaves the roadway from Highway 75 well packed and easy to maneuver. Visitors on cold days can often even hike on top of the frozen, hard-packed snow in just boots, but spring thaw can make this a wet and cold experience for the unprepared. Check out the conditions with a view of our live webcam.
Stanley Lake
Similar to Redfish Lake, Stanley Lake is a stopping point for many snowmobilers; However, Stanley Lake is far less traveled and a much further distance from the Highway. While this area can be fun to snowshoe and ski within, we recommend caution and preparation before venturing too far into the heavy powder or away from the packed snow of the roadway.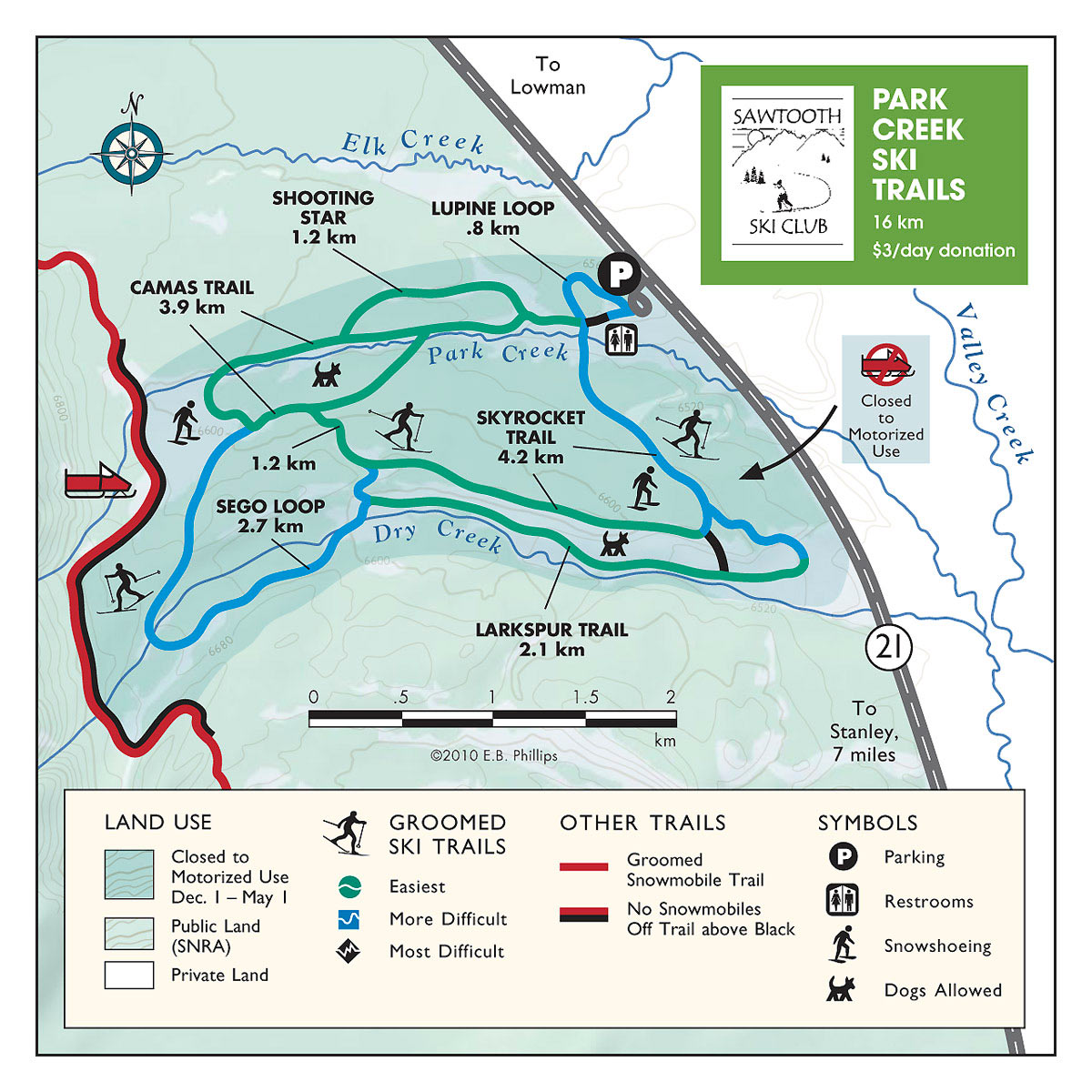 Petit Lake
Petit Lake is another area that is accessed by some, but recommended for few. Snowmobilers do visit this area during the winter months, and some cabin owners spend time at their properties during this time, but this area is typically left to the truly dedicated winter warriors. You'll find great views and amazing solitude, but make sure you're prepared before you venture into this rugged, fairly untouched area in winter.
Salmon River
The Salmon River does not freeze over entirely through the winter cold, leaving a beautiful scene as the frigid waters drape every surrounding rock and tree in ice. There are many areas to enjoy the views and soak up the sounds of rushing water during the winter months, and the Steelhead fishing season will begin soon, so be sure to check it out for yourself if you enjoy dropping a line.
Stanley
The Town of Stanley is an epic retreat during the winter months. While many businesses close, there is still a hardy bunch of locals that's happy to serve you or assist in your winter adventuring. Enjoy a winter ski trip with the Sawtooth Mountain Guides, take a dip in the Mountain Village Hot Spring, or grab a pizza at Papa Brunee's . There's plenty to do for a good time.
Smiley Creek
Smiley Creek is a wonderful destination for snowmobiling during the snowy season. You can grab a warm coffee or hot chocolate and a delicious meal before riding a snow machine all the way up to Stanley. There's no doubt you'll enjoy all the fantastic scenery along the way, then turn around and enjoy it all over again in the opposite direction. It's a fun ride for almost any skill level.
Depending upon the activity you'd like to participate in, each area offers a variety of positives. Of course, if you find yourself seeking far more exhilaration, there are options for that as well. You can contact the Sawtooth Mountain Guides for backcountry skiing and climbing options, as well as a system of backcountry yurts that offer direct access to routes throughout the Sawtooth Mountains. All in all, the Sawtooths offer some form of fun for adventurers of almost any skill set or level, so we encourage you to pay the area a visit.